Triple Jump Press Kit
Welcome to the Triple Jump press page. Here you can find information about us and our new NES multi-cartridge.
Description
Triple Jump is a new platform game multi-cartridge for the NES, for 1 to 4 players. It contains three NES platformers: Micro Mages: Second Quest, Spacegulls, Böbl + 1 bonus mini game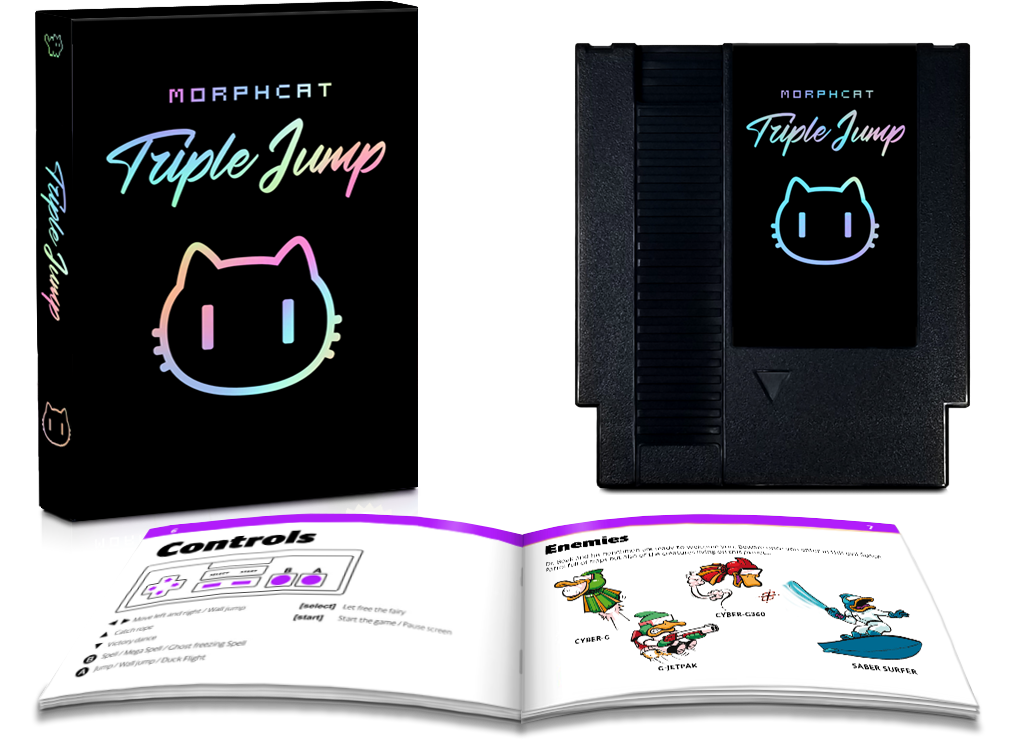 Fact Sheet
Developers: Julius Riecke (code, music and sound design), Nicolas Bétoux (graphics and level design)
Credit: Morphcat Games UG; Based in Berlin, Germany
Kickstarter page: Triple Jump Kickstarter campaign
Kickstarter campaign date: September 5 - October 6, 2023
Games of the compilation: Micro Mages: Second Quest, Spacegulls, Böbl and a bonus mini game
Platforms: NES, PC and many other platforms through the use of an emulator
Number of players: 1 - 4
Release Date: TBD
Contact: morphcatgames@gmail.com
Games
▪ Micro Mages: Second Quest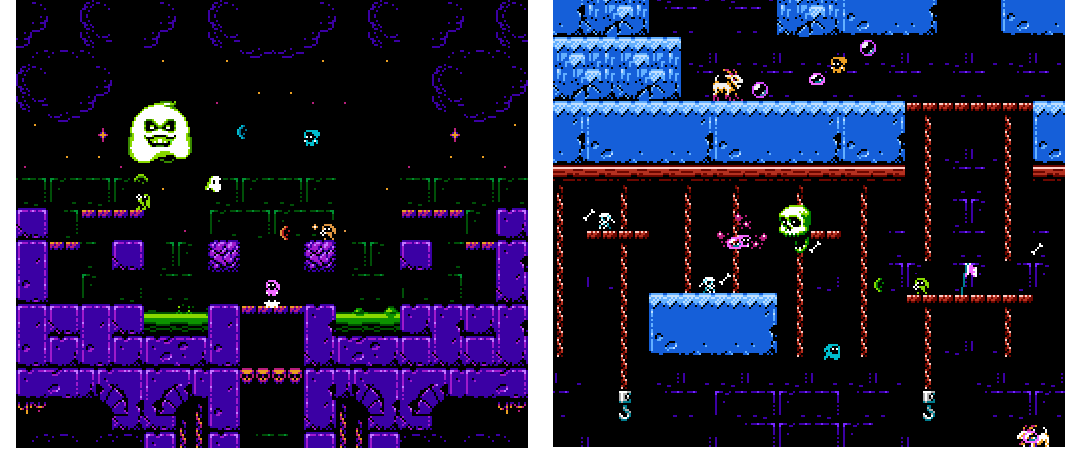 Players: 1-4
Description: a wall-jumping platforming adventure, best described as a level hack of the original Micro Mages.
Main mechanics: Shoot magic spells at enemies and use wall jumps to climb to the boss fight at the top of each tower.
Features: 26 new levels, Blood Bonds (if one player dies, everyone dies) and a new and improved Hell mode (66 lives to beat it).
Itch.io page: Micro Mages: Second Quest ROM (included in the Micro Mages downloads)
▪ Böbl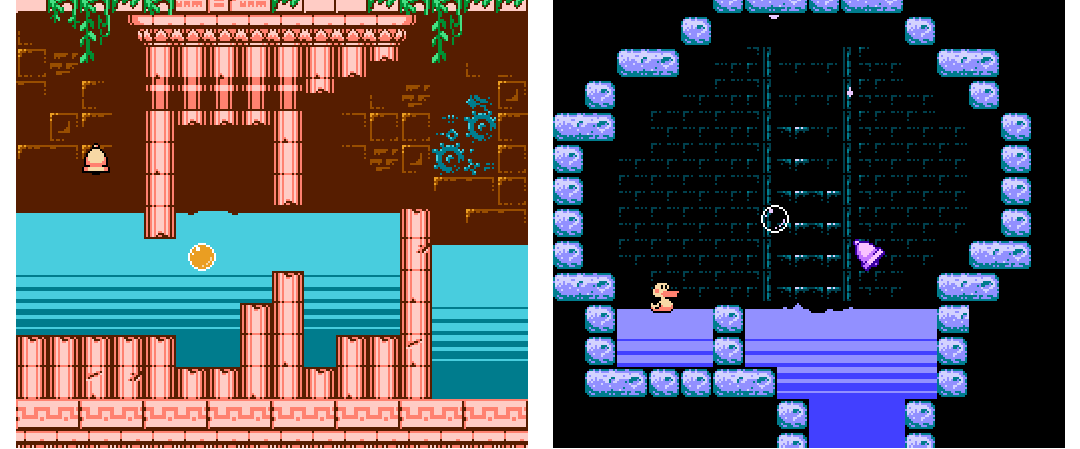 Players: 1
Description: is a physics-based metroidvania for the NES.
Main mechanics: Hold button to dive and let go to perform jumps via buoyancy
Features: Time Trial Ghost (up to 15 minutes of gameplay can be recorded), Zen mode (no-death, kid-friendly mode) and Duck Randomizer (change location of collectibles).
Itch.io page: Böbl ROM
▪ Spacegulls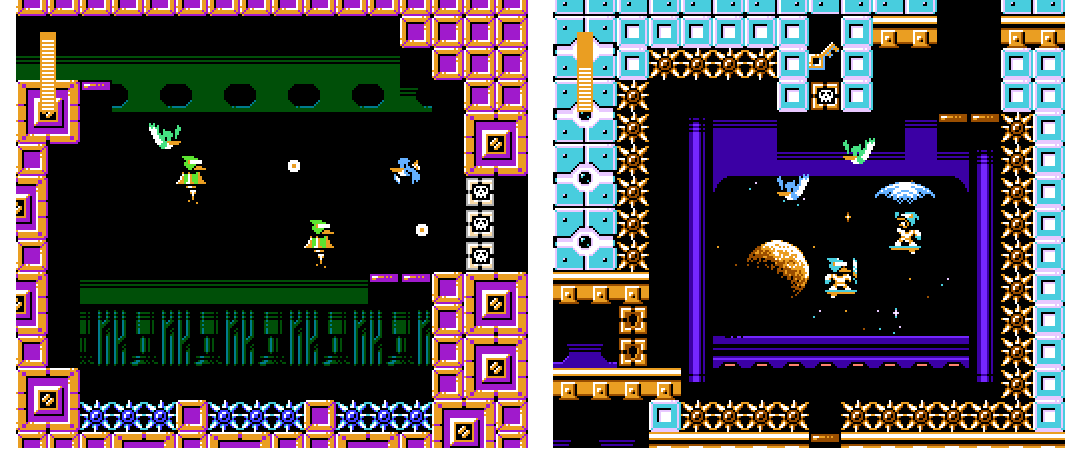 Players: 1-2
Description: a short platformer for the NES, best described as a combination of Joust and Mega Man, with a touch of Duck Tales.
Main mechanics: tap button repeatedly to fly, jump on enemies to defeat them
Features: more than 80 rooms to explore and a mini side quest.
Itch.io page: Spacegulls ROM
▪ Bonus Mini Game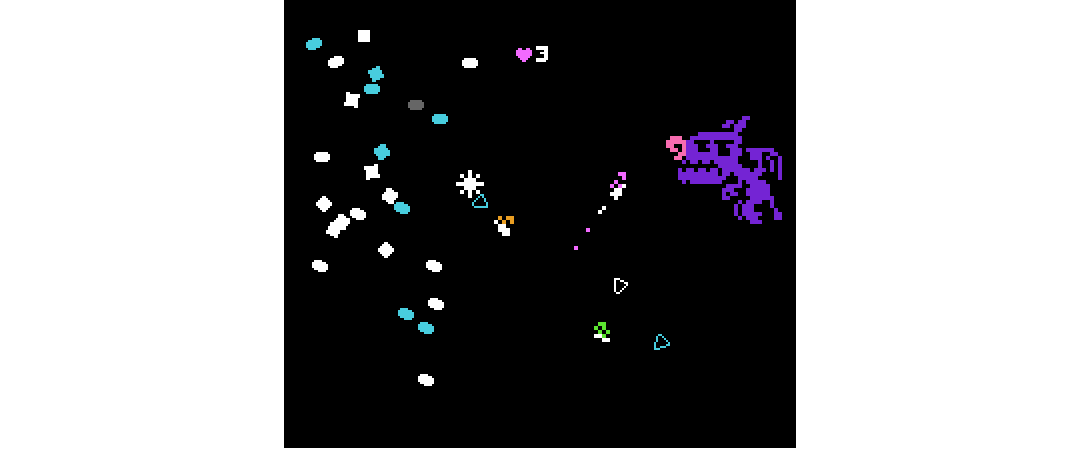 Players: 1-4
Description: A co-op boss rush game with a crisp old-school design.
Features: Two-button gameplay, double-size pixel aesthetic, huge bosses, dynamic "hoverboard" physics.
Release: TBD.
Triple Jump Features
Cartridge version runs on real NES/Famicom consoles
3 games + 1 mini game
Game selection menu
Couch co-op with up to 4 simultaneous players!
Compatible with the NES FourScore and Hori 4-player adapter
NES version comes with box and instruction booklet
ROM version runs on PC and many other platforms via emulation
Morphcat Games
We are a two-man team bouncing around Berlin, dedicated to bringing new games to old hardware.
Julius Riecke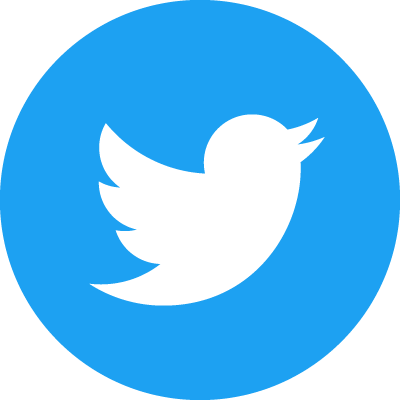 Julius created Morphcat Games in 2011 when he released the NES demo Super Bat Puncher. He made other games during game jams and also composes music on his free time. On Micro Mages, Böbl and Spacegulls, he did the programming, created tools for optimization as well as music and sound effects.
Nicolas Bétoux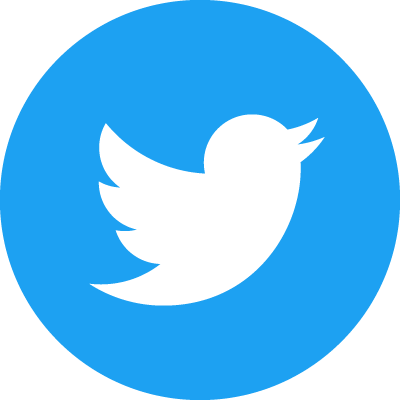 Nicolas joined Julius during the game jam Ludum Dare 32 and together they created a tiny NES game named Banana Nana. On Micro Mages, Böbl and Spacegulls, he made the graphics, level design and illustrations (box and instruction booklet).
History & Challenges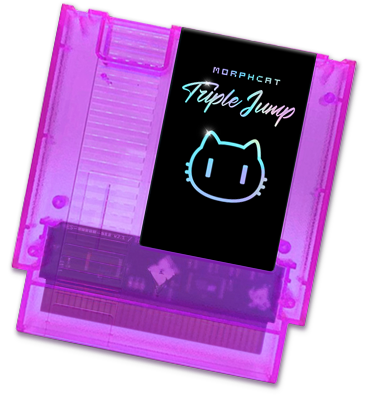 After our initial successful Kickstarter for Micro Mages, we continued creating jump 'n runs for NESdev compo (Böbl and Spacegulls ). As well as Micro Mages: Second Quest, a DLC for Micro Mages featuring 26 brand-new levels. These three games never saw an official physical cartridge release, so we decided to release them as a compilation.

Much like NES games in the past, our games were programmed using the 6502 assembly language.

Fun was our number one priority and we spent a lot of time on polish. Fluid gameplay, tight controls and a carefully balanced challenge were our dedication.
Interviews
Videos
Screenshots
Key art and illustrations
Sprites
Title and Logos
Miscellaneous pictures